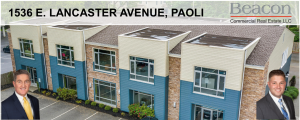 Beacon Commercial Real Estate LLC is pleased to announce the Sale of 1536 E Lancaster Avenue in Paoli, Pennsylvania on September 29, 2020.
Gene McHale and Colin McHale Beacon Commercial Real Estate, LLC represented the seller Shepperton Properties, LP in the sale of a well appointed 12,000 SF investment property. The property was purchased by CLL Paoli, LLC.
1536 E Lancaster Avenue is home to Geneva Global and Babcock Associates.