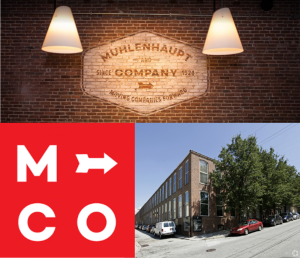 Lease Extension and Expansion Of Muhlenhaupt & Company at 10 Shurs Lane, Philadelpia, PA.
Beacon Commercial Real Estate LLC is pleased to announce the Lease extension and expansion of Muhlenhaupt & Company at 10 Shurs Lane in Manayunk. Muhlenhaupt extended the term for 10 years and expanded their space from 4,081 RSF to 10,838 RSF with Neducsin Properties, LP.
Muhlenhaupt is making this dramatic expansion as the company builds upon the success and growth enjoyed over the first five years in business. Although this is a nearly a 300% increase in space, Muhlenhaupt will fuel the construction of MNYK Studios, a 3,000 SF creative workspace for the audio and visual arts. This move demonstrates a ten-year commitment to growth and talent development in the Manayunk neighborhood, all in what Muhlenhaupt is calling "our pursuit of brilliance." Adam Muhlenhaupt, Principal and COO, shares "It's a big expansion for us. We're being opportunistic and aggressive with our growth in 2018 and beyond. Our idea is to continue to attract the top creative and strategic talent our city has to offer in our cozy neighborhood of Manayunk."
Beacon Commercial Real Estate, LLC – Jim DiBianca (Landlord) was the broker in the Muhlenhaupt & Company transaction.